Мої ПРОЕКТИ

SCHOOLS IN FUTURE
The topic of my project is "Future schools"
It is closely connected with the problem I work on "Students' motivation" because
The objectives of the project are:
Improve the quality of education by using the most effective teaching approaches and techniques;
Encourage innovations and their adaptation to educational needs;
Prepare students for increasingly complex life and work environments beyond school walls;
The world we live in is changing at a remarkable speed. Teachers, parents and increasingly students realize that schools need to be places in which exciting, challenging, engaging complex learning happens. Imagine perfect future schools where teachers, students and their parents are happy and motivated. The teacher-student relationship is changed into a teacher as a facilitator and students into teachers, who drive their own education to the path that they feel best fits them. Think about future schools in which students are equal. Disabled students feel comfortable here. All of them are totally engaged in a class, totally immersed in working together to solve real world problems.
I think In future students will solve problems not only in their schools, but all over the world. Someone will be able to put out a request to the entire global community to help solve an issue for their own community. Classes will adopt an issue and work together in the form of "project-based" learning with other classes around the world in real time to come up with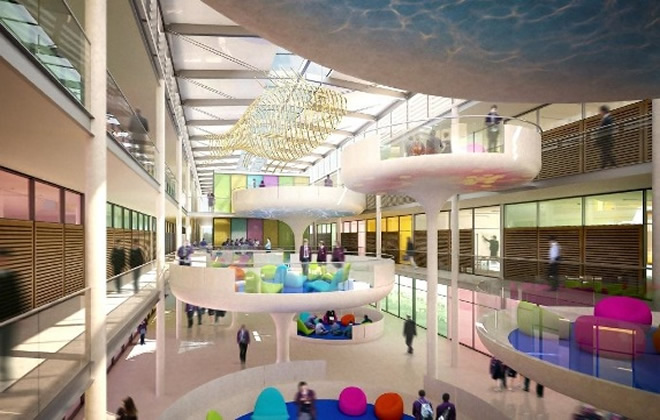 Students will be self-driven and come up with amazing ideas on the spot.
They will be concerned with each other's well-being as part of a team and their concerns will reache far beyond the classroom to others all over the globe.
Even further, they will interact daily with those people.
People will have equal opportunities to receive education. Schools won't select their students, only students will be able to choose schools according to special subjects or clubs which will be taught there.
The policy will be built on the principles of lifelong learning and free education. Education will be seen as a key to competitiveness and wellbeing of the society.
Both schools and the learning outcomes of pupils will be in the nature of encouragement and support. There won't be any tests and homework there, no deadlines and punishment. Basic education will encompass nine years and cater for all those between 7 and 16 years. At the end of this school students will have only their portfolios where their talents, successes, interests and gained skills will be included.
The objective of basic education will be to support pupils' growth towards humanity and ethically responsible membership of society and to provide them with the knowledge and skills needed in life.
Ingenious students here can use their knowledge and understanding to solve the unexpected problems of tomorrow.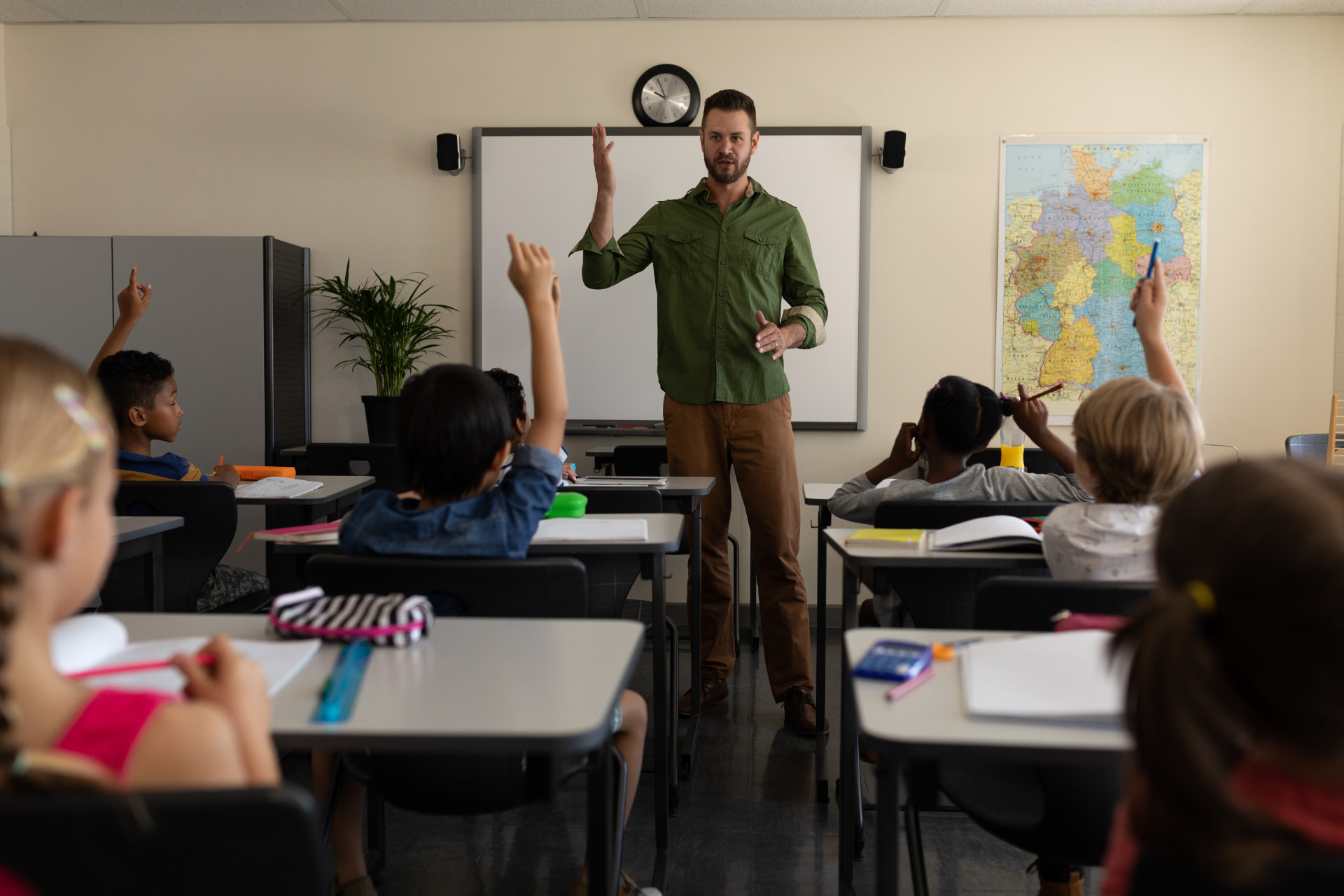 Do you want to be a teacher at this school?
There will be two phases to the selection process for school teacher education:
First, a group of candidates will be selected based on matriculation examination results, the high school portfolio issued by the school, and relevant records of out-of-school accomplishments.
In the second face:
Candidates will complete a written exam on assigned books in pedagogy
Candidates will engage in an observed clinical activity replicating school situations, where social interaction and communication skills will come into play
Top candidates will be interviewed and asked to explain why they have decided to become teachers.
Ongoing professional development will be important in future because teachers will up-to-date on new research on how children learn, emerging technology tools for the classroom, new curriculum resources, and more.
Let's hear what the teacher of the year in the USA thinks about students' motivation.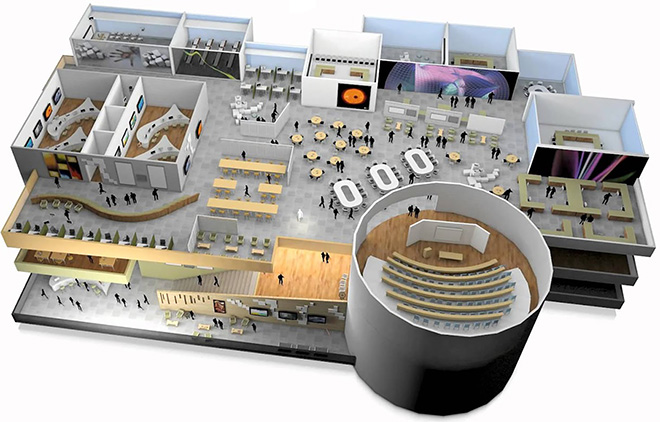 Resources which students and teachers will use in future will be different, useful, creative, motivating and free.
Google Apps for Education (GAFE) is a core suite of productivity applications that Google offers to schools and educational institutions for FREE. These communication and collaboration apps include Gmail, Calendar, Drive, Docs and Sites, and a GAFE account unlocks access to dozens of other collaborative tools supported by Google. All of these applications exists completely online (or in the cloud), meaning that all creations will be accessed from any device.
Future schools will use these applications freely.
Teachers and students will use new IT inventions, 5D resources, holograms for educational purposes.
Google Glasses with unlimited 10G Internet connection, screenglass displays, smart watches, smart phones will be used in every class.
In the classrooms of future schools you won't see pens and paper.
Every classroom will be provided with virtual reality headsets which will open up immense educational opportunities.
If you want to teach a child about the solar system, the ability to physically drop them onto the surface of any planet and show them what the gravity there is like, will be an incredibly powerful educational tool.
If you want to teach them about dinosaurs giving the experience of the creatures 
Subjects, like Maths, Geography, Science, Languages, Literature, Sport, History, Culture will be mandatory, super interesting and engaging.
Students will be able to choose optional classes and courses, like Music, Art, Drama, Cookery etc.
Robots will help teachers in future, but the presence of a teacher will be essential because students will realize that they won't deal with a machine but with a human being who will deserve attention and respect. This cooperation will help future generation improve their social skills.
Robots tutors can pop in to give advice on a single problem, to help disabled students feel more comfortable and confident and to replace students or teachers when they are absent while travelling or relaxing.
All students will go in for sports. Our medicine will be better so we won't have any illnesses or health problems.
Students and teachers will have special pills which will make their brains work better and more productively.
Students will also have external cognitive hard drives which they will be able to plug into their brains and use whenever and wherever they want.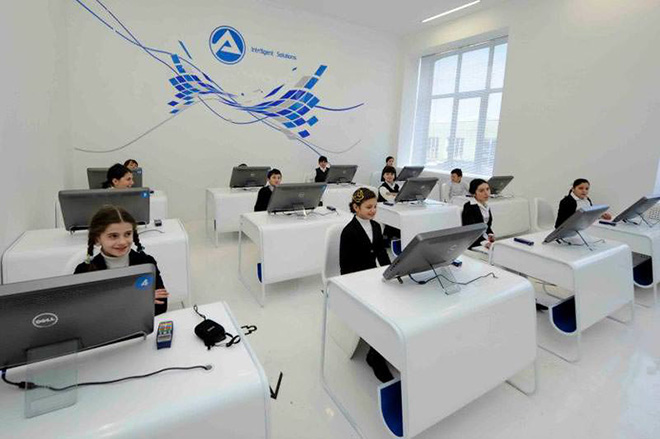 What about the school building and classes?
The school buildings will be large and made of eco materials. There won't be any walls inside the schools, only special spaces that encourage learning and help them develop all sorts of skills demanded by the world.
Students will have spaces for concentration and collaboration, spaces to create and mash up, spaces to celebrate and exhibit, spaces to excel and spaces to share. Students will work in groups of different sizes not only with students from their schools or countries, but they will be active participants in international projects and problem solving assignments.
There will be areas for quiet concentration and different comfort zones where you will be able to read, to stand, to play, to relax and to work.
Every student and teacher will have his or her own oasis where they will be able to get away from the digital world. Principles in these schools are great managers who control the work and improvements in the teaching and learning processes.
As a result:
100 % of Students are successful in their lives, their parents are relaxed and happy and the teachers are well-paid and motivated.